Numerous sources suggest that the instrumental version of Are You Lonesome To-night?, which was recorded on 18 June 1926 by Bob Haring's Cameo Dance Orchestra, is the true original recording. Well, yes and no.
Yes, it is a recording, probably the first, of a number called Are You Lonesome To-night?.
No, this is not the same Are You Lonesome To-night? we know in more popular vocal versions, including those by Vaughn De Leath, Lou Handman, Al Jolson, and Elvis Presley.
The number is performed in 4/4 time, rather than in 3/4.
The tune is totally different.
The writing credits are different, being for Turk, Link and Britt, rather than for Turk and Handman.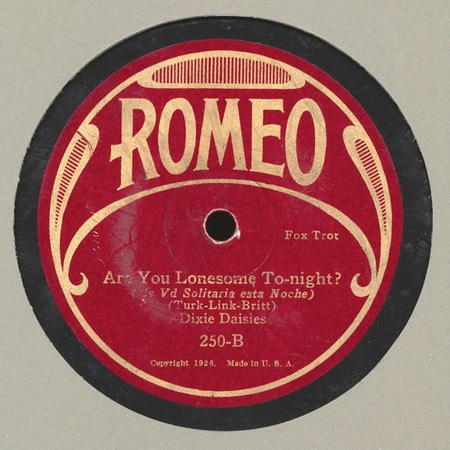 Haring's 1926 recording was released on at least three labels: Cameo 967, Lincoln 2540 and Romeo 250 (all with the same matrix number).
Cameo was the flagship label of the Cameo Record Corporation, and the label produced Lincoln and Romeo as "house brands" for sale at specific dime store chains: Romeo was for S. H. Kress & Company, for example. In any case, the three labels regularly used the exact same masters, but whether for contractual reasons or simply to make their rosters look more impressive than they actually were, a different artist pseudonym was used for each label. Thus, on Cameo, Are You Lonesome To-night? is credited to the Cameo Dance Orchestra, while on Romeo it's the Dixie Daisies, and the Lincoln issue credits Lincoln Dance Orchestra (or possibly Dale's Dance Orchestra). In this case, all are pseudonyms for Bob Haring who was a staff bandleader at Cameo in the mid-1920s, cutting hundreds of records under almost as many names!
There remains just one mystery, for the name of the lyricist is the same on both versions of Are You Lonesome To-night?, namely Turk. Presumably this is Roy Turk in both cases. That's strange in itself, but then, what happened to the lyrics of the instrumental version?
If you can provide any further information, or can offer label scans of Cameo 967 or Lincoln 2540, please contact me.
Many thanks to Bryan Wright for the scan of Romeo 250-B and for much of the information above and for the soundclip below. Yes, that's the Dixie Daisies playing Are You Lonesome To-night?
Why not visit Bryan's 78 rpm Record Collection site?