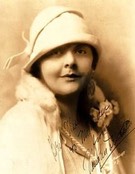 Vaughn De Leath was born as Leonore Vonderlieth in the town of Mount Pulaski, Illinois on 26 September, 1894. At the age of 12, Leonore moved to Los Angeles with her mother and sister. There she finished high school and studied music. She dropped out of college in order to pursue a singing career, adopting the stage name Vaughn De Leath.
In January 1920, the inventor and radio pioneer Lee DeForest, brought her to his studio in New York City's World Tower, where De Leath sang Swanee River. This performance is sometimes cited as the first live singing broadcast, although this is disputed by some historians. Because of technical problems with the microphone she was using, De Leath switched from her normal soprano to a deep contralto and is thus said to have invented "crooning." Her continued success on radio earned her the names "The Original Radio Girl" and "First Lady of Radio."
De Leath began recording in 1921 and during the next ten years she recorded for numerous labels, including Edison, Columbia, Okeh, Gennett, Victor, and Brunswick, using her own name and various pseudonyms, including Gloria Geer, Mamie Lee, Sadie Green, Betty Brown, Nancy Foster, Marion Ross, Glory Clark, Angelina Marco, and Gertrude Dwyer. De Leath recorded Are You Lonesome To-night? on two occasions in 1927, first on 13 June as a solo artist and then on the following 1 October, as vocalist for The Colonial Club Orchestra.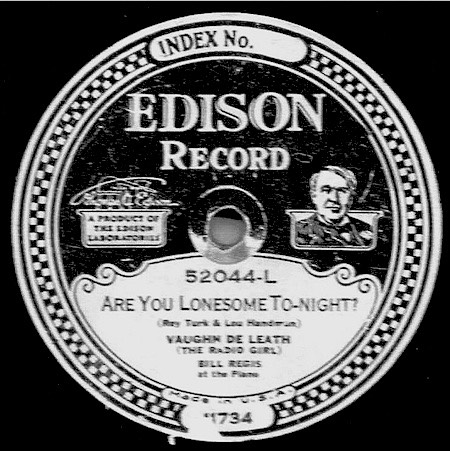 She made her last recording in 1931 for the Crown label. She made her final nationwide radio performances in the early 1930s, though she continued to make occasional appearances on local radio stations.
De Leath died on 28 May, 1943. She had experienced considerable financial difficulties, and these were complicated by a drinking problem, which also contributed to her early death.