Charles Hart was born on South Halsted Street in Chicago on 16 May, 1884, to parents who had emigrated from Germany. His father, Henry, a civil engineer, was an alcoholic and he deserted his family when Charles was four. The tenor took his father's name when he began singing professionally, calling himself Charles Henry Hart, which is why some labels give his name as Charles H. Hart. His mother provided for the family by working as a cook in upper class homes. The young Charles sang in choirs and later attended the Chicago Musical College, where he performed in amateur productions in 1902.
Not especially successful in his early years, he sometimes earned small amounts by singing illustrated songs in nickelodeons. By 1912 or 1913 he was enjoying moderate success on the stage, playing a supporting role in the popular The Spring Maiden.
Hart had his first recording session with a major company on April 23, 1917, when he cut two songs for Victor: Thou Shalt Not Steal (a Heart Away) and It's Time for Every Boy to be a Soldier. He sometimes recorded under the pseudonym Henry Jordan. Hart was an original member of Victor's popular Shannon Four, which began recording in mid-1917 and which consisted of Hart, Harvey Hindermyer, Elliott Shaw, and Wilfred Glenn. He was also a member of the Crescent Trio, which usually consisted of Hart, Shaw, and Lewis James, who was a Hart's duet partner at many sessions, and until late 1923 Elliott Shaw was another. Hart began recording for Edison in 1917 as a member of the Shannon Four, later called the Lyric Male Quartet. 
In late 1923 Hart left the Shannon Quartet because he had begun training his voice for opera. Hart had several Columbia sessions in 1925. He then studied operatic singing in Germany and made records for Electrola, the German branch of His Master's Voice. When he returned to the United States, he made his first electrical recordings. His first Columbia session after he returned from Europe was on September 22, 1926, when he added a vocal refrain to a Radiolites session.
Little of his session work in the late 1920s made use of his operatic training though he sang oratorio compositions (King Ever Glorious and My Hope is in the Everlasting) in August 1928 for Diamond Disc 52324. Instead, he mostly contributed vocal refrains to dance band records, perhaps most often for performances issued on Harmony, which was a Columbia budget label, and on Edison.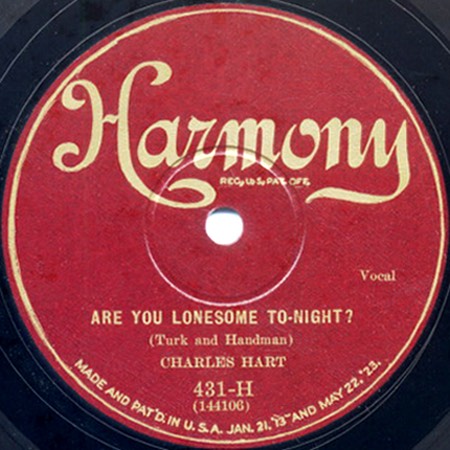 On 9 May 1927, Charles Hart made the first commercial recording of Roy Turk and Lou Handman's song, Are You Lonesome To-night? 
In 1929 he returned to Germany to sing in small opera houses, which ended his American recording career. He returned to the USA in October 1934 and sang often on stage in opera and musical comedy. Later, his singing career essentially over, Hart worked as a dramatic actor. In his later years, Hart lived in an actors' home in New Jersey. Hart died on 18 December, 1965.
And here's a soundclip, so that you can compare this Are You Lonesome To-night? with that on Romeo 250-B.
Hart's recording was also released on the Diva label, number 2431-G. Like Harmomy, Diva was one of the Columbia budget labels, pressed specifically for the W.T. Grant chain of stores.