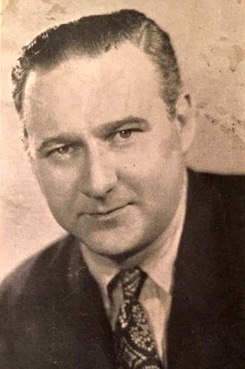 Many references report that Ned Jakobs made the original recording of "Are You Lonesome Tonight?" It is indeed true that Jakobs  was the first to record the number, which he did at Brunswick's New York recording studios on 18 May 1927), but his recording was not issued and seems to have been lost.
Jakobs recorded just five takes for Brunswick. On 17 May, 1927 he recorded the songs "Just Another Day Wasted Away" and "At The End Of An Irish Moonbeam" and the following day he recorded a second version of "At The End Of An Irish Moonbeam" together with "I Wonder Who's With You When I'm Not There" and finally "Are You Lonesome Tonight?" The recordings were listed as having been made by Personality Ned and he was accompanied by just a piano. However, the session listings indicate that the recordings were "not used" and that planned releases were cancelled. Furthermore, the recording of "Are You Lonesome Tonight?" was not given a label and record number, so was probably never planned for release. (All information from "Brunswick Records: New York sessions, 1927-1931" by Ross Laird, Brunswick-Balke-Collender Company, Brunswick Radio Corporation.) (The pianist during these two sessions was William Wirges. He left numerous recordings to the Library of Congress, where they are listed as the William F. Wirges Collection. Although this collection includes "Just Another Day," it does not include any of the other numbers that Ned recorded.)
But who was Ned Jakobs?
Ned Jakobs was born Nachem Jaakobs (note the double-a in the given name) on 10 August, 1893, in Zwolle, in The Netherlands. He had moved to the USA by about 1916 and in 1917 was playing soccer in Indianapolis for the Bethlehem Steel Company, even though, as the report states, he had only one arm. By the 1920 USA Census, he was found in Pennsylvania, USA, with a wife, Sarah, and a son, Ralph. His occupation was listed as a confectionary salesman. Ned was perhaps not happy with his lot, however, for by the mid and late 1920s he had moved to New York (see 1930 USA Census) and was presenting radio shows, producing off-broadway plays, acting, and, as is shown above, even had a go at singing. By as early as 9 August, 1924, the magazine Radio Digest lists Ned as presenting the Alex Kudisch ensemble between 8 and 9PM on the WJZ radio station in New York and on 4 October, 1924, that same magazine referred to Ned as an "eminent empresario [sic]." Indeed, according to newspaper articles of the time, Jakobs was a multi-talented fellow, able to speak ten languages, play the violin, and even spent some time as a wall-of-death cyclist! He was clearly more successful as a producer than as a singer and at least three of his plays moved from off-Broadway to Broadway itself (e.g. The Money Lender in 1928, Houseboat On The Styx also in 1928, and Mimie Scheller in 1936), though none had a very long run.
In 1928, Ned married Marietta O'Brien, an actress who featured in one of his musical comedies (coincidentally entitled, "Marietta"), but he was pursued in court by a Mrs. Dorothy E. Huyett Jakobs, who claimed to already be his common law wife. The case dragged on for several years and in October 1935 a court finally ruled that Huyett was Jakobs' legal wife. (Ned and Sarah, his wife as recorded in the 1920 census, had divorced and Sarah died in 1926.) Ned, however, was to marry again, this time in 1943 to one Alpharetta Mary Van Valkenburgh. This marriage was to last until Ned's death on 1 October, 1956, at just 63 years of age, still young, but with a full and eventful life behind him. (Alpharetta lived on until 14 November, 2010; she was 104 years old.) Ned died whilst on a business trip to the Netherlands. He is buried with the name Ned Jaakobs (note the double-a) in the Zwolle Kranenburg cemetery.
(Newspaper image of Ned Jakobs in about 1936 courtesy of Marietta Jaakobs, Ned's granddaughter.)