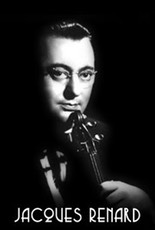 Despite the very French-sounding name, Jacques Renard was born in Kiev, Russia (I have been unable to find a date), as Jakob Stavinski. He was raised, however, in Chelsea, Massachusetts, and trained as a classical violinist. Rather than joining a symphony orchestra, he formed his own dance band and became popular in the Boston area towards the end of the 1920s. His success on local Boston radio stations soon lead to his playing on national radio networks, fronting a number of radio house bands during the 1930s.
His recordings during the late 1920s are often labelled as Jacques Renard and His Cocoanut Grove Orchestra. The Cocoanut Grove was a popular nightclub in Boston. On 28 November, 1942, fire swept through the nightclub, killing 492 of those who were present and injuring many more.
Vocalist Franklyn Baur was a successful recording artist in his own right, who recorded for numerous companies, though was perhaps most prolific on the Victor label.