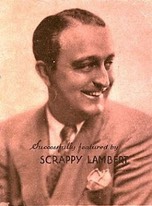 Harold Lambert was born on 12 May, 1901. He is often referred to in conjunction with his nickname, as Harold "Scrappy" Lambert. When at Rutgers University in the early 1920s, he formed a singing comedy duo with fellow student, Billy Hillpot. In 1926 the pair was signed to perform with the Ben Bernie Orchestra. Then, together with Hillpot, but also as a solo artist, Lambert made many recordings for numerous labels, often using a pseudonym. Lambert might sing in his own right, as was the case with Are You Lonesome To-night?, or simply as a band vocalist, singing the vocal chorus in front of the big bands and studio groups of the era. Lambert ceased performing in 1943. He died on 30 November, 1987.
Harold Lambert recorded his version of Are You Lonesome To-night? in August, 1927 (possibly the 15th.). This recording was released on at least three labels: Cameo 1216, Lincoln 2563, and Romeo 444. (If you can provide a scan of the Romeo 444 label, please contact me.)
You can read plenty about Harold "Scrappy" Lambert here.