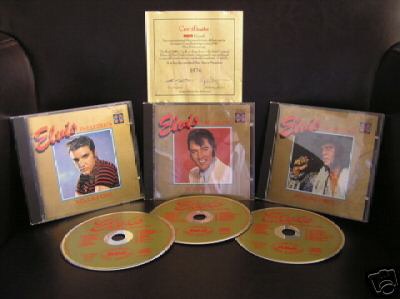 Country: West Germany
Number: RCA PD89061, RCA PD89062, RCA PD89063
Price: 50 euro
Comments: Rare original 1983 German RCA 3-CD box set. This was the first issue of Elvis on CD anywhere in the world and one of the earliest commercial CDs released. Each disc is gold coloured has unique gold bordered picture sleeve and the three were presented a slipcase, which is missing here. The set was limited to only 5000 worldwide. The accompanying Certificate indicates that this is set Number 3974. The certificate shows moisture damage (possibly water), but the CDs are fine and can even still be played. Note that the back inserts (track listings) of CDs 2 and 3 are the same — an error made by RCA when the set was released, apparently. Price for this ultra rare set is low, reflecting the lack of the original cardboard slipcase. Track listing:
Elvis The Legend Volume One (PD 89061): ; 1. That's All Right; 2. Heartbreak Hotel; 3. I Was The One; 4. Blue Suded Shoes; 5. My Baby Left Me; 6. I Want You, I Need You, I Love You; 7. Hound Dog; 8. Don't Be Cruel; 9. Love Me Tender; 10. Love Me; 11. All Shook Up; 12. That's When Your Heartaches Begin; 13. There'll Be Peache In the Valley For Me; 14. One Night; 15. Loving You; 16. Teddy Bear; 17. Party; 18. Jailhouse Rock; 19. Don't; 20. Kid Creole.
Elvis The Legend - Volume Two (PD 89062): ; 1. Wear My Ring Around Your Neck; 2. A Big Hunk O'Love; 3. A Fool Such As I; 4. My Wish Came True; 5. I Got Stung; 6. It's Now Or Never; 7. Stuck On You; 8. The Girl Of My Best Friend; 9. A Mess Of Blues; 10. Are You Lonesome Tonight; 11. Wooden Heart; 12. Surrender; 13. Wild In The Country; 14. Can't Help Falling In Love; 15. Rock A Hula Baby; 16. His Latest Flames; 17. Follow That Dream; 18. Good Luck Charm; 19. She's Not You; 20. Return To Sender.
Elvis - The Legend Volume Three (PD 89063): ; 1. Devil In Disguise; 2. Bossa Nova Baby; 3. Such A Night; 4. Crying In The Chapel; 5. Love Letters; 6. Guitar Man; 7. U.S. Male; 8. If I Can Dream; 9. In The Ghetto; 10. Suspicious Minds; 11. Don't cry Daddy; 12. The Wonder Of You; 13. You Don't Have To Say You Love Me; 14. There Goes My Everything; 15. Rags To Riches; 16. I Just Can't Help Believing; 17. An American Trilogy; 18. Burning Love; 19. Always On My Mind; 20. It's Only Love.