The offer of a one week trip by the Official Elvis Presley Fan Club of Great Britain was taken up by about 500 of its members, who left Britain on August 30, heading through Belgium, The Netherlands, and Germany, before arriving in Luxembourg for the Convention.
The trip went well, with the fans travelling in coaches from stop to stop. If you went on the trip, you might recognize yourself in this bunch of ne'er-do-wells, gathered by their suitably decorated bus.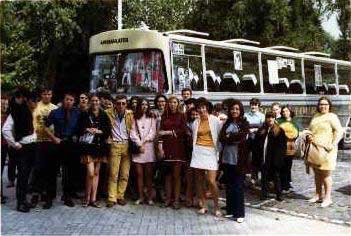 Starting off in Belgium, the Brits were feted at a western-style barbecue by the Belgian fans; then it was up through Rotterdam and on to Amsterdam, where the delights of the night-life were sampled and a night club was taken over.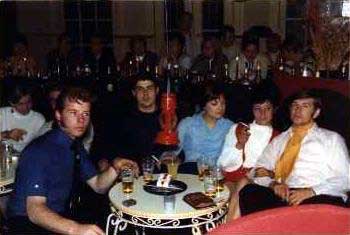 From The Netherlands it was into Germany, with a visit to Cologne and a trip down the Rhine, only to find a friendly DJ, who obviously had good taste in music, too!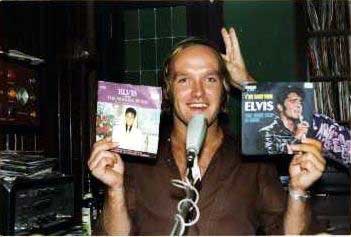 Saturday found us all in Luxembourg, ready for what we thought was going to be a great convention. Things didn't work out all that well, despite the presence of an MGM film crew (filming for use in That's The Way It Is). Some people still managed to have a good time on stage, though!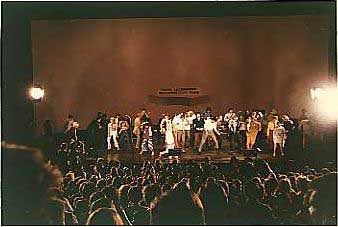 Quite a few fans left the Convention early because of the lousy quality of the film projection (the film was Change of Habit, but it was almost impossible to follow because of equipment shortcomings). We made our way to Luxembourg city, where we were able to see Live a Little, Love a Little and then enjoy all the fun of the fair!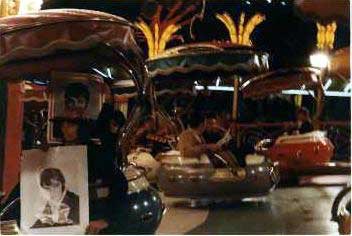 Next day it was back on the coach, headed for Ostend to take the ferry back to Britain. At Ostend, we signed an Elvis poster and presented it to our friendly Belgian coach driver.