Carson Robison (the writer of Turkey In The Straw released a single with the title A Hundred Years From Now in July 1945. It was his own composition and was issued on Bluebird, but neither the tune nor the text bear any similarity to those we know of by Elvis. What, you don't believe me? Take a listen:
Red River Dave was shown as the writer of I Won't Care (A Hundred Years From Now), released on Capitol Americana A40024 in 1947 by the Oklahoma Sweethearts. Here is a scan (photo?) of the label, followed by a brief soundclip, recorded from the original 78 rpm recording.: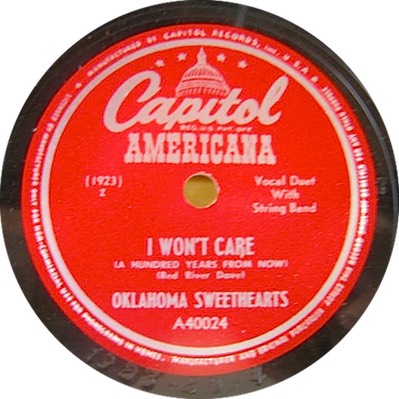 In December 1947, Clyde Moody recorded his version, released as I Won't Care A Hundred Years From Now on King 849. Here's a clip.
On 24 March, 1957, Lester Flatt and Earl Scruggs recorded their own version of Red River Dave's number. Their recording was released as A Hundred Years From Now and their own names were used in the writers credits. Sadly, that's just about how things have remained since then, except that the Bear Family's compilation album, Flatt & Scruggs 1948-1959 showed Hein and Royle as the writers: that was equally incorrect. To complete things, here's a brief extract from the F&S version: