During the 4 June, 1970 session at Studio B in Nashville, Elvis Presley and the musicians had just had a break, after which Elvis started singing some country songs from the 1950s. He started with Bob Wills's Faded Love, but the lyrics were not in the studio, so Elvis suggested Sanford Clark's The Fool instead. Just two takes were needed to make a master and then Elvis spent another two takes on the next number that he started himself, using an acoustic guitar. That number became listed in Elvis's Walk A Mile In My Shoes album as A Hundred Years From Now and it is the origins of that number that we shall look at here.
As far as I am aware, all of Elvis's releases that include A Hundred Years From Now indicate the writers as being Flatt and Scruggs. Even Ernst Jorgensen's book, Elvis Presley: A Life In Music shows the writers to be Lester Flatt and Earl Scruggs. BMI lists more than 25 titles of different numbers with the title A Hundred Years From Now, or very similar. None of these entries shows Flatt and Scruggs as the writers.
This got me thinking…
And this is what I found.
A song called A Hundred Years From Now featured in the 1905 Broadway musical Moonshine, with music by Silvio Hein and lyrics by George V. Hobart and Edwin Milton Royle. I can confirm that this is not the same song, however, even though the Bear Family Records 1991 release Flatt & Scruggs 1948-1959 lists Hein and Royle in the writers credits. In fact, Bear was just copying the writing credits shown on the 1957 Flatt and Scruggs single release of the number on Columbia 4-41064-c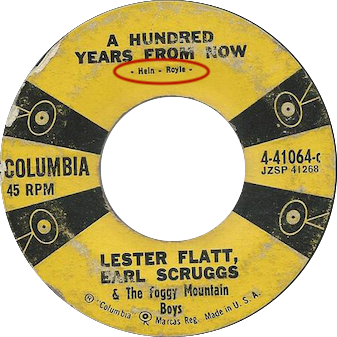 In fact, the full title of the song appears to be I Won't Care (A Hundred Years From Now) and Red River Dave (David L McEnery), a Texas country singer, published a song by that title in the 1940 song portfolio, Songs Of The Mountains And Plains (comp. C. Van Ness Clark; Rialto Music Publ. Corp., NY) (I Won't Care (A Hundred Years From Now) is part of No.6.).
On 18 June 1940, country duo Bob Atcher and Bonnie Blue Eyes recorded a number with the title variously listed as I Won't Care (A Hundred Years From Now) and simply I Won't Care, which was first released on Okeh 05755 and later on Conqueror 9595 and Columbia 37751.
I have it on authority of the Country Music Hall of Fame and Museum that this is the same song that was later recorded by Flatt & Scruggs. Furthermore, the Atcher-Bonnie Blue Eyes labels specifically credit "McEnery" as the songwriter.
We have our original and we know who wrote the number: Red River Dave.