The original lyrics:
When the blackbird in the Spring,

'On the willow tree,

Sat and rocked, I heard him sing,

Singing Aura Lea.

Aura Lea, Aura Lea,

Maid with golden hair;

Sunshine came along with thee,

And swallows in the air.

Chorus:

Aura Lea, Aura Lea,

Maid with golden hair;

Sunshine came along with thee,

And swallows in the air.
Well, the first verse and chorus, anyway, for we are not really interested in the lyrics. Instead, it's the melody that matters as far as the transition from Aura Lea to Love Me Tender is concerned.
Aura Lea was first published in 1861 in Cincinnati. The title was shown as Aura Lea (and not Aura Lee).
The American Civil War started soon after publication, but by then it seems that the song was already a success and it became a favourite of soldiers on both sides of the conflict.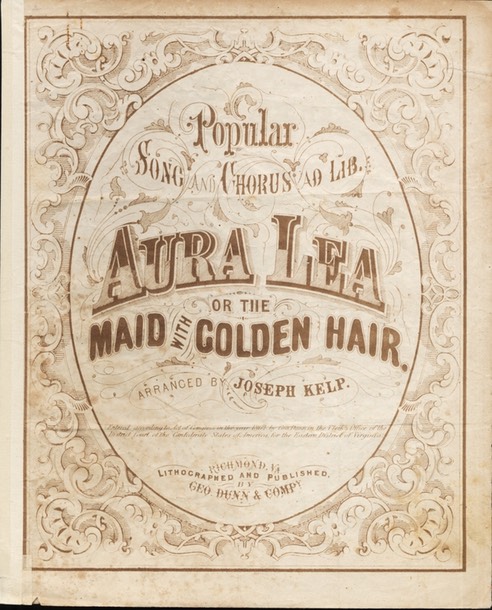 The first illustration to the left shows the original Cincinnati publication, whereas that to the right is of a Confederate version, published in Richmond, Virginia. Here the song is given the subtitle The Maid With Golden Hair.
That the tune of Aura Lee is the same as that of Love Me Tender can be clearly seen in the first page of the musical score, taken from the Confederate edition.
(Click on the images to see larger versions.)
Noticeable is that the tempo instruction at the start of the music is Allegretto, so Aura Lea was supposed to be performed at a faster tempo than we are used to hearing Love Me Tender (in this respect, also see Army Blue).
Aura Lea was sung twice by Frances Farmer in the 1936 film Come And Get It! She performed two short versions of the number, sung by different characters once as the mother and later as the daughter. Here you can see the "daughter" version:
The first recording of the number as Aura Lea was made by R.M. Buckley on 27 September 1913 at Victor's Camden, NJ, recording studio. However, the recording was never issued. The first commercially issued recording seems to have been that of the Shelton Brothers, made on 17 February 1937 and released on the Decca label in 1938.