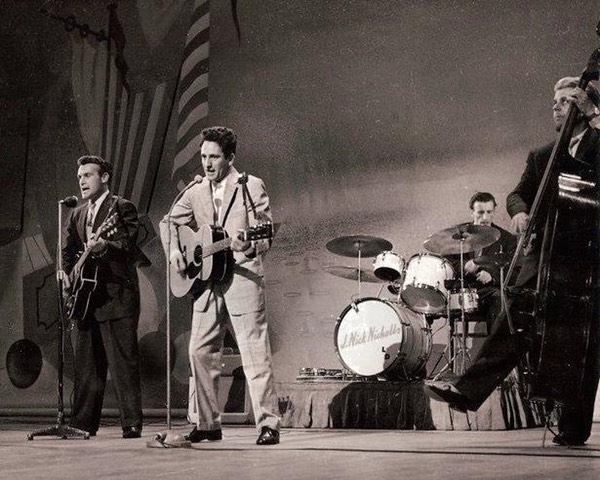 Know as The King of Skiffle, Lonnie Donegan was born in Glasgow, Scotland, in 1933. He helped bring Rock 'n' Roll to Britain in the mid 1950s; he influenced hundreds, perhaps thousands of youngsters to pick up a guitar or even an old tea-chest and broom-handle, and go out and play music the way their parents had never done.
Lonnie's first love was jazz, trad jazz, but recognising that audience responded well to his fast versions of numbers by Leadbelly and Woody Guthrie, he recorded some of these and had huge success in 1956 with Rock Island Line.
In the early 1960s (probably) Lonnie and his rhythm guitarist, Jimmie Currie (seen in the photo playing guitar next to Donegan), took Wanderin' and transformed it into I'll Never Fall In Love Again: using a very similar melody, but completely different words and also with a different "message", they came up with a potentailly great pop song. Donegan himself recorded his own version of the number in 1962, which was released as a single on Pye 7N.15446
By that time, however, Lonnie was no longer the draw he once was, and the number was lost in the record bins of history.
But then, some years later, Lonnie was touring with Welsh star Tom Jones…