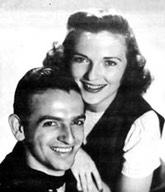 The first recording of I Won't Care (A Hundred Years From Now) was made by husband-and-wife Country duo, Bob Atcher and Bonnie Blue Eyes (real name Loretta Applegate) on 18 June, 1940 (source: Country Music Records : A Discography, 1921-1942 by Tony Russell, Bob Pinson; p.69). The recording was released on at least three different labels at different times:
OKeh 05755, August 1940;
Conqueror 9595, January 1941;
Columbia 37751, August 1947.
Unfortunately, I am unable to locate either a copy of the recording, or a scan of any of the labels (I would especially like the OKeh label). If you can help with these, please contact me.